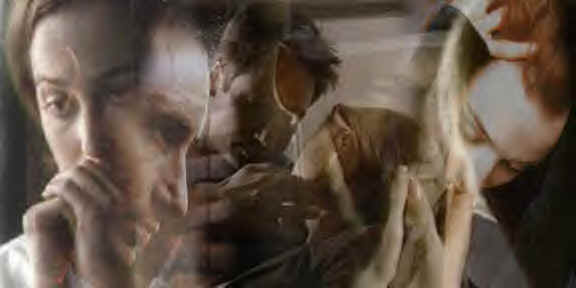 Authors' Websites
There are a few authors whose work just bowls me over. Nearly everything I read from them is masterful -- supremely crafted, emotionally evocative, vividly descriptive, always in character. So, in addition to archiving my favorites of theirs here, I also decided to link to their websites. Please visit their sites, read their work, send them feedback.
Beduini
Everything I've ever read of Beduini's has affected me in some way. Drive Thru made me think. The Scenes series made me see the benefits of taking things slowly. Her story Hot made me. . . well. . . Anyway, her writing is vivid and stylish, emotionally evocative. And best of all, she takes chances in her work.
Char Chaffin
Char became one of my very favorite fic writers the moment over a year ago when I read two of her stories: French-Kissed and Waiting For My Partner. They're very different stories -- heck, one is even kidfic -- but both are innocently sexy and sweetly romantic. Much of her work is more erotically charged, which is always a good thing.
Diana Battis
Though Diana has a special affinity for Mulder, she also writes an incredible Scully. Her work is always heartfelt and often angsty, frequently with some delicious smut thrown in for good measure. Her story Caprice is a delightful post-ep for "Je Souhaite," her Interminabilis Vitae series moves me to tears every time I read it, and Eclipse, a collaboration with alanna, is an amazingly plausible look at the 7th season.
Livia Balaban
After I'd chosen four of Livia's stories to feature here, I realized that I loved just about everything of hers that I read. What I admire most is that she doesn't do anything remotely "typical." Her post-ep stories usually refer to events in the episodes, but take place at some indeterminate later time, like in partner in all things. She also has a wicked sense of humor, like in Fox in Stocks. And she has an incredible ability to think outside the box, like in Agnus Dei.
Marguerite
As with Livia, I realized I absolutely loved just about every story of Marguerite's that I read after I added a fifth story of hers. What I find so impressive about her writing is the lyrical nature of it, even in her humorous stories. She chooses just the right words, the right turn of phrase to evoke exactly the emotional response she's looking for -- that takes incredible talent. In addition to the stories archived here, I'm especially fond of Remotely Controlled, a funny and twisted post-ep for "X-Cops."
ML
Whenever I'm feeling blue or sad, I read one of ML's stories. That's not to say that all she writes is happy stories -- there are several very angsty ones among her work -- but more often than not, her stories make me smile. In addition to those archived here, I really like Everybody Knows a Turkey -- big grins for that one.
Susan Frankovich
When I first started reading fanfic, I steadfastly avoided poetry. Well, that's not entirely true -- I read a few poems that were really badly written, just excuses for flowery words and overt symbolism, so I stopped reading XF poetry altogether. That is, until I found Susan Frankovich. Susan's work -- whether poetry, a vignette or a longer story -- never fails to touch me emotionally. Her Letters to You, a series of post-"Requiem" vignettes, is exquisitely heartrending.

Stories Here, Listed by Author's First Name
Updated August 12, 2002
-a- -b- -c- -d- -e- -f- -g- -h- -i- -j- -k- -l- -m-
-n- -o- -p- -q- -r- -s- -t- -u- -v- -w- -x- -y- -z-

Abra Elliott
In the Attic
The Morning After Midnight
She Is
Agent L
The Proposal
An Unnatural Mother
alanna
Eclipse (written with Diana Battis)
First Steps series
Foux
Thin Walls
Throwing Words Away
Alcott
Cherished
Amanda Finch
Hold-Up in Aisle 5
Amanda Wilde (MaybeAmanda)
Epiphany
Sojourn
Ambress
Tidings
Ana Hawkman
For Magic, For Life
Andrea
The Order of Things
Where There's a Will
Anna Renick
This Isn't Over
Anne Haynes
Across the Rubicon
End of the Beginning
Anne Hedonia
The Last Worthless Evening
Annette Gisby
The Witch Hunter
Annie Sewell-Jennings
The Missing Heart
Ann K
Urges
aRcaDIaNFall$
Chances Are
Longest Night
ArtemisX5
Ardent Hope

Article67
The Tallest Elf
Audrey Roget
Current
Avalon
Bad Habits
Night Baptism
Twilight

Barbara D.
No Place Like Home
Beduini
Drive Thru
Legitimate
Scenes series
Blackwood
Inversion Layer
Meltdown
Bluesea
Feathers
Brandon D. Ray
Becoming Dana
Not a Hallmark Kind of Guy
Branwell
Closed Colony, Special Stock
bugs
Tiger and Dragon

CallRachel
Marty's Lullaby
CGB
Pas De Deux
Char Chaffin
Cashmere Sweater (written with T Bishop)
Drowning In You
French-Kissed
His Father's Son
Visions of MulderPlums
Within the Heart of a Mother
Christina
Gold Embossing
Platinum
Cincoflex
Six of a Kind (written with Jerry)
CindyET
Breach of Trust
Choke Hold
The Curse of Urticaria
Dinky Dau
Road's End
Those Better Angels of Our Nature
cofax
Too Young to Party
Cratkinson
His Hands
Illogical
Nocturnal Admissions

darkstar
microcosm
Dasha K
Alunakanula
Down a Lazy River
Resolution 2000
The Trick Is To Keep Breathing
David Hearne
Aftermath Spent in Solitude
Hartwell
Manly, Manly Men
Under Your Bed, In the Closet, Behind You
David Stoddard-Hunt
Zombies in a Newer Age
Dawn
Feathers, Bones, and Shells


Hang a Shining Star
Harbor
Precious Things
Deslea R. Judd
Four Minutes
Hands
Diana Battis
Caprice
Eclipse (written with alanna)
Fractal Images
Interminabilis Vitae series
Opacity
dlynn
The Forget-me-nots of the Angels
Scully, NORAD Called. . .
Donna
Meeting Charlie
Premonition
Dreamshaper
Luminescence
DSc1110
Vanilla and Silver
dtg
Monday Again

Elizabeth Boyd-Tran
Pulse
EmGee
Sacraments
Emma Brightman
Stay
EPurSeMouve
Bobbie Collins' Exclusives series
Oil and Polish
Partners-A-Go-Go (written with JHJ Armstrong)

FabulousMonster
Triebe
Fialka
Gathering Half the Deep
Little Man
Finn
One Time
Fiona
Limited Edition
Still Life
Flynn
Apathy
Eavesdropping
Ritual
Ritual II: Another Perspective
Watercolors
Forte
Crossing the Street
It Came in the Mail
Foxie Meg
Bend Down and Whisper
Foxsong
Sunset
fran58
Morning Ritual
frogdoggie
Anno Domini
Treffen
Frohike
Another Day

Georgia
The Point
The Sequel
The Tea
Waking Up Twice
Gina Rain
The Eggshell Dance
Every Night
Strawberries in Winter
Gnatalie
Chainlink
Gwinne
Domestic Inclinations
Dream Life
Scarred

Horatio
Interregnum IV: Obstructions

Isahunter
Vicious Kiss

Jaime Lyn
He Left the Light On
His Child
Jamie Greco
What She's Lost
What to Expect
Janet F. Caires-Lesgold
The "F" Word: A Thanksgiving Leftover
Jenna Tooms
An Acceptable Level of Happiness
Black and White Make Red
Jennifer Scott
Divergence
jeri
O Brother. . .
jerry
Six of a Kind (written with Cincoflex)
Jesemie's Evil Twin
By the Window Hearing Light
Small Lives Awake
jesse
Persistent Memory
Jess M
Professional Help
Ship Building
JHJ Armstrong
Beyond the Blue
In Spring
Partners-A-Go-Go (written with EPurSeMouve)
JiM
In Dreams
Jintian
Suttee
JLB
Abstract Insight
Adjustment
Three O'Clock
Jori Remington
Turning and Returning
J. S. Michel
Best Intentions
Marines and Cops
Jssangel
Submerged
Julie L. Jekel
Rest or Go On


Karen
And the Other
Glass Menagerie
Manent
A Rare Saturday Morning
Karen Rasch
An Informed Choice
Kate Rickman
Falling Upward
Love For All Seasons 1: Summer Into Fall
Love For All Seasons 2: Coloring Fall
Love For All Seasons 5: Leaves of Spring
Kel
After William


No Longer at Ease Here
Waiting for Agent Right
Kelly Keil
Desperate Measures
Only Apples
Shards of Porcelain
Undertow
Kelly Moreland
Following Yonder Star
It's Just a Question
Small White Comfort
Kestabrook
Things Found

Lari R
A Unique Creation
Laura Castellano
Mulder in the Morning
Laura Kaye
Strange Glue
LC Fenster
Cabbages and Kings
Leigh Alexander
You Can't Go Home Again
Leslie Sholly
Another Chance
Ripening
Shifts of Fortune
Lilydale
Caught in My Shadow
Lisa
Coping Strategies
Lisby
Edge of Field
Livia Balaban
Agnus Dei
Before She Was Mine
Make Me One With Everything
The Myth of Silence
partner in all things
Louise Andrews
Dream Through My Heart
Lucy Garner
Since Thursday
Luperkal
All of These are Nothing
Lydia Bower
In The Ruins
Lysandra
Good Vibrations
Not Close Enough

Maddie LeClerc
Scenes in Dark Rooms
Magdeleine
Bonemeal
Maggie McCain
Another Lunch at Will's
Ashes and Oatmeal
Maidenjedi
Staying Late

Marasmus
Into a Forest
Mare
Start as You Mean to Go On
Maria Nicole
The Tending of Monsters
Marie Endres
How Far?
Marguerite
Always Through the Changing
But Ourselves
How Glory Goes
Opening Door Does Not Alter Time
Whom My Soul Loveth
Marlen
False Visions
Marta Christjansen
Asylum
Mary Parker
Closet Musings
Maureen B. Ocks
Pass Failure
Mel
Living Again
Meredith
Brave New World
Descension
Something Less
MeridyM
Forbidding Mourning

Michelle Kiefer
Christmas in California
Fringe
Hearth
Making Other Plans
One Star Belongs to You
Tilt
Mischa
Temporary
Mish
I Can Eat Glass
My Favorite Word
ML
Dermatology
Drowning Sorrows
I'm Here
The Secret Language of Babies
Skinman on Campus
To Build a Dream On
To Dream of Caramel
mountainphile
Perks
Sins of Omission
Take Another Breath
Ms. AM
Lead Them Home
Tarnished Gold, Hollow Faith
M. Sebasky
At Your Feet, His Emblems Fall
Woman's Work
Ms Lillian
Blankets
Muldersfan
To Finish the Game
MystPhile
After

Narida Law
If He Asked You
nikki
How We Are
You're Not Supposed to Be Here

OneMillionandNine
Premature Ejaculation

Pacquin
Sugarland

Paige Caldwell
Hey You
Pam Gamble
Magic and Mystery
Piper
Pajamas
Pteropod
Moment of Inertia
Pufferdeux
Riding the Whirlpool

Rachel Anton
Two Fish Swimming
Rachel Wilder
Delivery at the Corner of Dupont and Connecticut
First Night
Growing Old
Respect des Fonds
Rachel Woods
Secrets Among Socks
rah
Sexual Healing
Ravenscion
Afterimages
Robby Keofe
Happiness

Sabine
Some Books About Crooks
Thanks of a Grateful Nation
Sagan
Priceless
Sleeping Beauty
Sarah Ellen Parsons
The Crouching Thing
Sarah Segretti
Operation Clean House
Scullysfan
Cacophony
Silent Touches
Shahara Zade
White Noise, White Wave
shannono
First Day Back
Snark
Convergence
The Light of the Soul
Sophia Jirafe
Deliberation
spookycc
Strike a Deal
SueBee
By Hand
Feeding Fish
Susan Frankovich
4:34 a.m.
Eleven
fourteen
In the Dark of Night
Letters to You series
Letting Go
Proximity
Road to Somewhere
Someone Else
Touches
The Way They Do Things
Susanne Barringer
Gift Horse
Suzanne Schramm
Covenants, Contracts & Restrictions
Sylvia Tremblay
House of Mirrors

Tara Avery
The Children We Were
Tourniquet
T Bishop
Anahata
Cashmere Sweater (written with Char Chaffin)
Four More Miles
Lurid Details
Tess
Blessed Night
Debrouiller
In the Light of a New Day
Snow Day
Trinity
Heart, We Will Forget Him
Trixie
Distance to Touch Upon
Twisted Sister
Tonight, Tonight

Vehemently
Rainbow Sign
Vickie Moseley
all the way home
Bored Games
Comfort
Homecoming
Loose Ends
Remember
Taking in a Stray

wen
umbrella

Xanthe
Daddy
XochiLuvr
Engendered
XScout
A Day at the Office

Zephathah
Love Letter
Unthinking
Zuffy
Across the Void

Broken links? Please e-mail Lara. Thanks!
Return to Main Page